AIG CEO Peter Zaffino during the company's most recent earnings call provided analysts with some insight regarding insurance implications from Russia's invasion of Ukraine.
"We have not seen a situation like this in modern times," Zaffino said during the May 4 call. "It presents a unique set of circumstances that make any exposure or coverage analysis complex."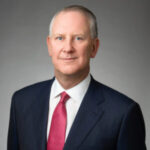 Zaffino said AIG received "a few" claims related to the Russia-Ukraine war under political violence or political risk policies and the insurer "did reserve our best estimate of ultimate losses, including IBNR (incurred but not reported)." Later in the call CFO Shane Fitzsimons said the events in Ukraine contributed about $85 million of the total $274 million in catastrophe losses AIG booked during the first quarter, for which AIG reported net income of $4.25 billion compared with $3.87 billion during the 2021 first quarter.
More on AIG's Q1 earnings: AIG Q1 Net Income Up as Underwriting Profit Soars
Based on an internal analysis of exposures and known claims, Zaffino said of the war's affect on AIG: "We do not believe the impact will be material," and added that in the event of losses, AIG has "multiple reinsurance programs available."
"It's important to bear in mind that standard property and energy policies issued to the types of insureds most likely to have suffered losses due to the conflict typically contain broad exclusions for losses arising at a war and other hostile acts," Zaffino explained. For those with affirmative coverage for these types of losses, most would fall under political violence, political risk and trade credit, aviation, and marine coverages.
Specifically on aviation because of the attention it has received, Zaffino said "it will take time for all the relevant facts and resulting coverage implications to fully emerge" due to the fact policies can be issued to airline operators and leasing companies for losses covered by war perils and non-war perils. Sanctions from the European Union and United Kingdom required lessors to terminate leases but Russia passed a law allowing Russian airline operators to reregister leased aircraft from Western lessors, Zaffino said.
"What we don't know is much more expansive," he continued, because the extent or timing of losses is unknown, as is whether any efforts were made by lessors to mitigate losses. "As to the question of losses caused by war perils versus non-war perils, this is a critical question that will need to be answered as the outcome will determine which policy might apply, and the amount of coverage available."
Topics
Russia
Market
Ukraine
AIG
Was this article valuable?
Here are more articles you may enjoy.
Interested in Market?
Get automatic alerts for this topic.
https://www.insurancejournal.com/news/national/2022/05/05/666295.htm